Post by Zelus on Apr 12, 2015 23:58:36 GMT -5
General Information
Faction Name:
The Sentinel Enclave
Faction Type:
Jedi Enclave
Faction Leader:
Grand Master Anthara Desyk
Player Character Members:
Sentinel Omari Haran
Other Important Members:
Sentinel Rego Barand, Master Mala Jissard, Master Ran Vanda
Intentions:
To eradicate the Sith Threat, to destroy corruption wherever they see it
Common Beliefs:
Their beliefs are very similar to the Jedi prior to the end of the Clone Wars. They believe that the order was weak in it's foresight and was not nearly aggressive enough. All members walk the path of the Grey Jedi, and see themselves as 'border guards' for the dark side. In their isolation the requirement for new blood has since made them more liberal in their beliefs regarding love and marriage. Their Jedi are free to love and have children, and can even marry in the temple. They still recruit when they can, though with the rise of the new order, they prefer to birth their own Jedi. There are however exceptions in regards to the neighbouring system of Yashuvhu, who have a long history with this particular Enclave.
Allies:
The New Jedi Order (though the Order is seemingly aware of them, this enclave considers them allies), the New Republic, Yashuvhu.
Enemies:
the Sith (Kingdom when it is revealed), Imperial Remnants, the Hutt Cartel, Black Suns and other criminal organisations.
Assets
Headquarters:
Ilum Jedi Temple – Much larger since Order 66, It is now a livable base, it has hidden passages, and a hangar built to store the starships of the Jedi that live there.
Other Strongholds:
None
Number of Members:
80 – 1 Grand Master, 8 masters, 22 knights, 25 padawans, 24 Initiates and infants.
Other Assets:
Other than diplomatic ties with a couple of systems they recruit from, not much.
Standard Equipment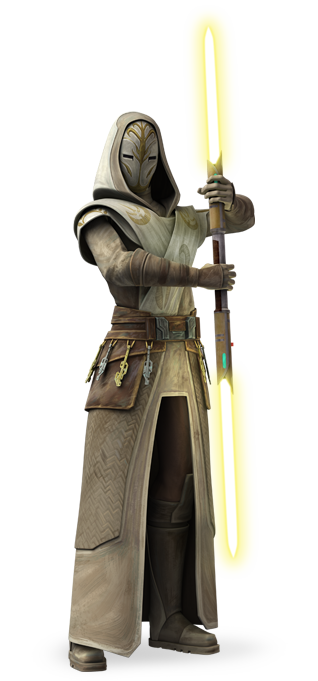 Standard-Issue Weapons:
Lightsabers of various design, though all use yellow lightsaber crystals
Standard-Issue Apparel:
They wear the armour of the Jedi Temple Guard, though most are recreations, they have relatively few actual temple guard uniforms.
Vehicles:
A couple of BARC speeders, nothing more than a couple of unarmed speeders and repulsorlift craft
Starships:
An aging consular-class cruiser hidden in a crevice on Ilum, several old HWK-290 freighters. Several Eta-2 Actis Class fighters (With hyperspace rings), 4 "Liberated" X-wings, about 7 Z-95 Headhunters with hyperdrive modifications
Other Equipment:
They have quite a few astromech droids from the R2 lines, along with two 3PO series droids, 10 labour droids used for construction.
Faction History
The founders of the Sentinel Enclave on Ilum were aboard the Consular-Class Cruiser Paragon when Order 66 was issued throughout the galaxy. After a group of younglings were attacked on their way home from Ilum, it became customary for several of the Jedi Temple Guards to accompany the younglings to and from the Ilum temples. As such, there were six Temple Guards aboard the vessel, along with clone pilots and at least fourteen younglings. Anthara Desyk had been with the Clone pilots at the time when one of them got the order. Feeling the disturbance, Desyk cut down the clone pilots, and rushed to rescue her companion Jedi.

She found the rest of the clones dead, and one of her fellow guards gravely injured. After giving him rudimentary treatment, they aborted hyperspace as the deaths of hundreds of Jedi could be felt by all aboard the ship. They didn't know what was happening, but it wasn't hard to guess. For some reason the Clones had turned on them, and as part of their training, they went into hiding. Ilum was as good a place as any to hide away and so they turned and fled to that location.

They hid on the planet for some time after. Waiting for news, knowing that if any Jedi survived, they would eventually come there. With their old masters dead, they spoke constantly of their options. Ilum was a safe harbour, but it wasn't a good place to live. Either they had to make it livable, or they had to move on.

Their decision was made up for them eventually, after a Jedi battered and bruised found his way to the temple. He described the events of his attack, his survival and his escape. Like theirs, the clones had turned on them, so they had no choice but to remain hidden. After treating their fellow Jedi, he decided to leave and find more Jedi to help direct them back to Ilum. They never saw him again, which was one of the first sparks of their paranoia.

As the years progressed, several Jedi came to the temple to seek shelter. Gradually the temple became more hospitable; as the sentinels often went off and captured some supplies from places no one would really miss them. When needed the Paragon was used as the home. It was around now that they had started stealing from systems they could reach easily, and while they mostly took things no one would really notice, such as food, they began to steal bigger things they would need as a whole. Around this time, several light freighters were snatched by the Sentinels, who disabled their locators and identification devices, to keep people from finding them. They would then use the freighters to move cargo to Ilum to help in their construction.

When the Younglings grew, the Sentinels took them up as initiates and padawans. On Ilum the Jedi practises continued on in secret. Time went on and the loneliness of the planet began to get to people. Couples were made amongst the Sentinels, with people looking for comfort. Eventually the other members would find out and a decision had to be made. With their isolation, their numbers few and many of their friends dead at the hands of the Empire, they felt the need for new members. As such they decided to release themselves from the burden that the Jedi before them had put themselves under. The Sentinels didn't wait long, as a year later the first child to be born in the Enclave came, and opened the gates.

Ten years on, the new children born of the Jedi were now becoming initiates, and all of the original younglings were now either knights or Padawans. The enclave was now fully livable. They grew their own food in a hydroponics bay, and they were relatively self-sufficient. As such their raids on the systems had all but ceased, with them only occasionally going out into the galaxy to check the state of things. Their lives were comfortable, despite their bad memories and all in all, they were happy.

With their numbers few, they eventually decided to expand. If they were going to remake the Jedi order eventually, or at least a part of it, they would need new blood. Looking at their options, they decided their best bet was to go to the nearby system of Yashuvhu. Knowing the culture there already had a deep appreciation of the Jedi, they knew they would gladly give their people to them so they could be trained. When two of their sentinels did travel to the planet, they were given several of their younglings. Gratefully the sentinels accepted and took the children after testing their blood, and then returned back to their enclave where the children would be trained.

This new blood invigorated the enclave, breathing new life into it. Many of the Sentinels were happy with this arrangement, not wanting to rely on themselves for making children. So much so, it started the tradition of the Sentinels going to Yashuvhu to find more young who could be trained. Some of the Sentinels would go back to their homeworlds occasionally and search for new blood there.

Now their numbers are encroaching on one hundred, with more children either being born or recruited. Many of the first generation are now knights, with some of the Yashuvhu also in that cadre. They have sworn themselves on eradicating the Sith and other galactic poisons. They are aggressive in their pursuit of this. They firmly believe the Sith still exist, it's just a matter of finding them and stamping them out. With their devotion on eradication, it is quite obvious that these Jedi in their isolation and paranoia have become Grey Jedi. They sit dangerously close to the darkside, and whilst none have ever succumbed it's only a matter of time before one does. Or perhaps they have found the right kind of balance.

They have yet to fully show themselves to the galaxy too, with many people mistaking them for members of the New Jedi Order. The sentinels will often use this as a cover and hope people don't ever look too closely. They now have their own council led by their leader Anthara Desyk. The council, and therefore the enclave as a whole are somewhat mistrustful of the New Order. Whilst they have very little information about them, they believe their two orders might come to odds at some point, and as such have decided to remain isolated away from the galaxy. Whether or not they'll end up being swallowed up by the New Order is yet to remain seen as the two have yet to meet.