Post by Zelus on Jan 21, 2016 8:06:57 GMT -5
Fleets of the Galaxy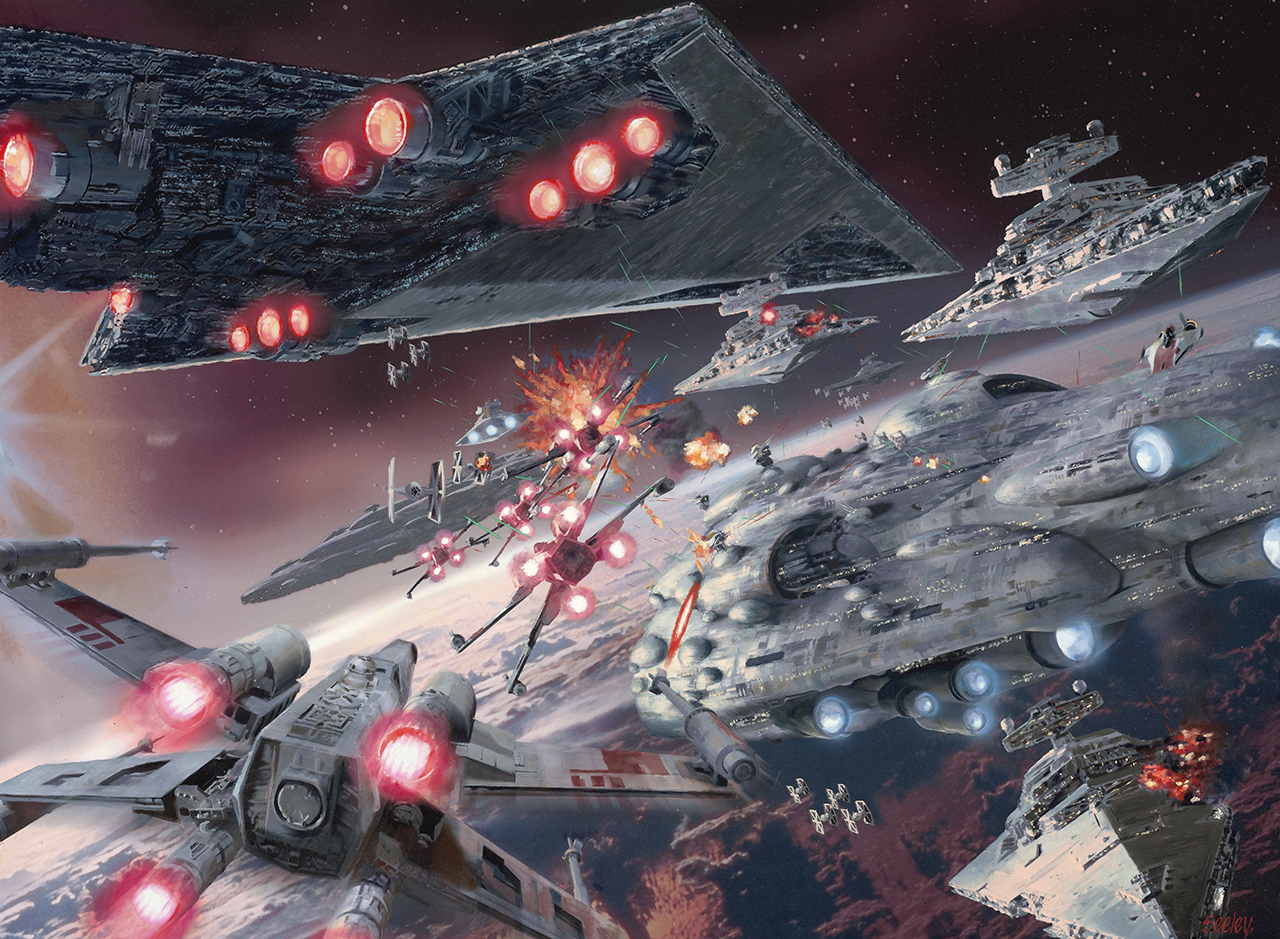 Factions:
New Republic
- The New Republic Fleet is led by a Supreme Commander, who organises the fleet from Fleet Command located on Coruscant. Much like during the Rebellion, the New Republic puts a heavy focus on the use of fighters during combat. Most lead ships of a Republic Fleet have hangars filled with fighters, and they make use of carrier class vessels at almost every opportunity. Despite this they still have some heavy hitting larger vessels. Most of the Republic ships are built over the planets Kuat and Dac.
Imperial Remnant
- The Imperial Navy is led by the Chief of Naval Operations, from Naal Command located on Bastion. Having learned that fighters are a viable means of naval warfare, the Imperial Navy has shifted focus from the larger vessels to upgrading their smaller vessels to be on par with the fighters of the New Republic. Despite this many large vessels are still being made and a wave of new ships are designed and built with every passing month. Imperial vessels are built in the shipyards above Jaemus and Entralla.
Hutt Space
- The majority of the ships used by the Hutt Cartel are under the direct command of Nasrii the Hutt, current Supreme Mogul of the Hutt Cartel. Whilst it fleet is quite numerous to say the least, it is almost entirely run by droids, mercenaries and slaves. Ships of the Hutt Cartel come in swarms with quite a few hard hitting larger ships. Though not nearly as loyal as combatants from the New Republic, or as regimented as those from the Imperial Remnant, pilots under the employ of the Hutt Cartel are thoroughly dangerous in the chaos they bring. Ships produced for the Hutt Cartel are produced in the shipyards above Saleucami and Nal Hutta.
Sith Kingdom
- Though still relatively new to the galaxy, the Sith Kingdom Navy is growing by the day. Using old designs refitted with new technology the ships may be limited and archaic, but threatening in the right hands. It just so happens that those hands are almost entirely in the hands, or at least led by Sith. These Sith demand absolute loyalty to their cause and they are satisfied with nothing less. Even though many of their ships are run by slaves or brainwashed servants, they act with complete servitude. Sith Kingdom vessels are built either above Dromund Kalakar or within the Star Forge Seed located in the Stygian Caldera.
The Redeemers
- Perhaps the true successor to the Alliance Fleet, the Redeemer Fleet is largely made up of older Rebellion vessels, or ships donated to them through sympathetic manoeuvrings. Almost exactly like their predecessors, they have a heavy reliance on fighter combat, but also hit and run tactics. As every ship is precious to the Redeemers heavy combat is something they do their best to avoid. Their movement has a cause and with that in mind, every Redeemer for the most part is as loyal as they come and it shows in combat. They are quick to defend each other and are all brothers in blood. Though they do not manufacture vessels of their own, they maintain their vessels in the orbit of the hidden safe world of Isis.
Death Watch
- As Death Watch are the occupying force of Mandalorian Space, they have a focus on highly organised displays of power. With their flagship in constant orbit of Mandalore, they keep a constant eye on the civilians below. Led by Mand'alor the Resurgent, many clans of Death Watch are left to organise themselves, though they are expected to maintain the Mand'alor's authority with the utmost sincerity. The Mandalorian Death Watch relies on the skill and tact of their crews, so every crewmen and fighter pilot is heavily skilled in their chosen fields. This elitism limits the numbers the Death Watch fleet has at any one time, but what they lack in numbers, they make up for in incredible skill. Most if not all Death Watch ships are built in the shipyards above Mandalore.
Centrality
- The Centrality relies on aging ships they have taken or bought pre-owned from the various navies and planetary forces across the galaxy. As a result their fleet is not modernised or capable of competing with the modern ships as of twenty-five ABY. Despite this they are run quite efficiently. To ensure survivability the Centrality often modifies their vessels with some captains choosing to spend what little wages they have on their own ships. Crews are loyal to each other and whilst they might be bitter about the state of their home, it is their home and they defend it with their lives. Though the Centrality does not build their own vessels (for the most part), they maintain their ships in the maintenance shipyards above Scillal.
Corporate Sector Authority
- Though they do make their own fighters, the Corporate Sector Authority often buys ships from elsewhere in the galaxy. Like the Imperial Remnants, the crews that serve the Picket Fleet are highly regimented and thoroughly trained to maximise the profitability of utilising them. As the Picket Fleet pays well, it is often becomes the destination of many former Imperial or Republic soldier looking to make some money for themselves. Following the Imperial defeat at Endor, the Corporate Sector Authority welcomed many former Imperials into their ranks, many of whom serve the Picket Fleet currently. With their reliance on their own fighters to support their foreign ships, the CSA has a lacking in heavy fighter support, though with their deals with the various governments across the galaxy, it is unlikely to remain that way forever. What little ships the Corporate Sector do build, are built over Bonadan.
Classifications:

For simplicity's sake, I have refrained from going into too specific classifications, and as such, all ships will be fitted into the following categories depending on their size and their overall role within a fleet.
Capital Ship:
A capital ship is any ship that 'leads' a particular fleet, whilst any ship can assume this role, most if not all capital ships are large, visibly intimidating and armed to the teeth. Depending on their size they will come with multiple hangar bays to provide fighter and bomber support, should the fleet need it.
Frigate:
Frigates are medium to large support vessels with incredible firepower. They are built to last and can take more than their fair share of missiles. Though they can and do fill the role of a capital ship, should the need arise, these are support vessels. Not all come with their own hangars, though some do. They will often be seen accompanying the larger capital ships, though they do provide system security in important worlds.
Corvette:
Corvettes are perhaps the most common multi-role ship in any navy. Ultimately versatile, they assume many roles. From system and hyperspace patrols, to anti-fighter support corvettes are quick. Best used as hit and run vessels, they are not built for sustained battles like frigates, nor are they big enough to hold the firepower needed to take on capital ships without numbers. A good fleet will have a number of these in their arsenal, as anti-fighter gunships corvettes work best.
Carrier:
These ships are a rare sight in fleets with large capital ships with large hangars, however carriers provide that much needed star fighter support when needed. Usually carriers can carry far more fighters than any other vessel type and they are built to resupply such vessels that need it, namely bombers. Large troop transports can often be classified as carriers also, though these ships are often more vulnerable than fighter carriers themselves, due to lack of armaments and fighter support.
Fighters and Bombers:
Small, agile ships deadly in swarms. These ships are often crewed by three or fewer people, and are often what turns the tide in any battle. Sure you have your capital ships with sixty laser cannons, but what good is that if they can't even hit the target? With their low profile, surprise attacks by a bomber, heavy gunship or even a fighter can be devastating.
Utility Ship:
Utility ships are the ships that do not, for the most part, provide a decent combat role in a fleet. These are fleet tenders or supply vessels. Whilst they might have guns, they are for the most part built with a purpose. Whether that is to repair ships, transport troops to the surface, or move large amounts of goods from place to place. These are often targets as they provide background support for fleets, armies and nations, without them nothing can run. They're best defended or kept away from the frontlines... sometimes though, a utility vessel might surprise you however. Some utility vessels are highly modified by their owners, who knows what could lie underneath a hull of a transport?
OOC: Please bear in mind this list is incomplete and subject to change. Listing every known ship used by the various factions would take far too long, but this is to give you a visual idea of the make up of each faction's fleet.